Long-serving RNLI Thurso coxswain to retire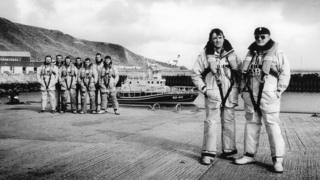 Thurso lifeboat's coxswain Bill Munro will retire on Thursday after almost 48 years serving with the RNLI station.
Known in the RNLI by his nickname Wing, the 64-year-old has received multiple awards over the years for his role in many rescues.
He and his volunteer crew were recognised for their bravery in the rescue of a scallop boat, Aztec, in extreme weather in September 1997.
They continued the rescue even after one of the lifeboat's engines failed.
In July 2011, Mr Munro was involved in the rescue of 12 tourists - six military personnel and their wives - from the rocks on the island of Stroma in the Pentland Firth.
In a letter to the RNLI afterwards, one of those rescued wrote that he could not "praise highly enough the bravery, professionalism and manner in which your team went about extracting us from the rocks.
"It probably wasn't the most difficult rescue Wing's crew has carried out, but to us every man was a hero of enormous proportions and we will be eternally indebted."
'Unwavering support'
In May this year, Mr Munro and Thurso lifeboat crew rescued scallop diver Ivan Doychev, who had spent 11 hours drifting in the sea.
But the coxswain said an incident that particularly sticks in his mind is the 48-hour search for the boat Shearwater in March 1984.
The crew of the vessel were all friends of the lifeboat crew.
The Shearwater was lost and the lifeboat crew's task changed from a rescue to a recovery mission. Only two of the three crew members' bodies were recovered.
RNLI chief executive Paul Boissier has paid tribute to Mr Munro's service. The lifeboatman, who will retire on Thursday and marks his 65th birthday next month, is one of the longest serving members of the RNLI.
Mr Boissier said: "On behalf of the RNLI I would like to give a heartfelt thanks to Wing Munro for almost half a century of service to the RNLI.
"Wing's unwavering support has seen him attend hundreds of call outs during this time, ultimately making a real difference to people's lives.
"This huge amount of hard work and loyalty is both inspiring and humbling and the institution is incredibly grateful for such commitment to saving lives at sea."