Sleepy sperm whales spotted off Isle of Lewis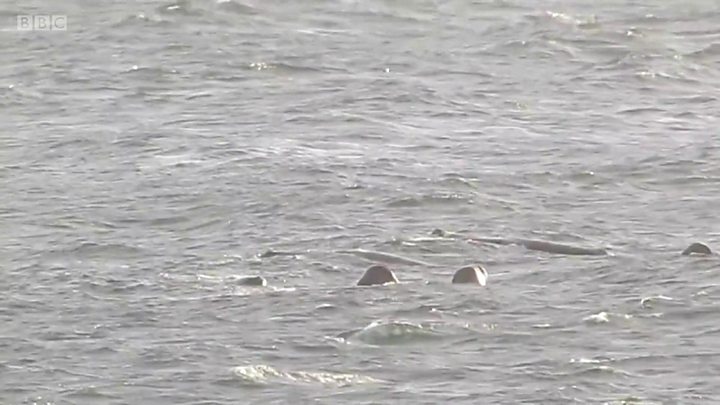 Twelve sperm whales have been spotted resting in the sea off a Scottish island.
The animals were logging, a term used to describe sleeping whales and dolphins, near Tiumpan on Lewis.
Steve Dodd, a trained and experienced local volunteer observer for the Whale and Dolphin Conservation Shorewatch programme, made the sighting.
He said the large whales were logging for more than an hour on Wednesday morning.
Mr Dodd said sperm whales were a rare sight off Scotland, and were usually only encountered when they stranded on shorelines.
Sperm whales, which are one of the deepest diving mammals in the world, can grow to up to 18.3m (60ft) long, and hunt large squid.
Mr Dodd said other sightings this year in the Minch, the stretch of sea between the Western Isles and Scotland's mainland west coast, have included a humpback whale.
Last year, 29 sperm whales became stranded on North Sea coasts.
A study suggested large solar storms, responsible for the northern lights, may have played a role in the strandings.
The research suggested these geomagnetic disruptions may have confused the whales' ability to navigate, diverting them into the shallow waters.
Trapped and lost, the whales died on European beaches, attempting to escape.