Royal Mail deliveries to four remote properties suspended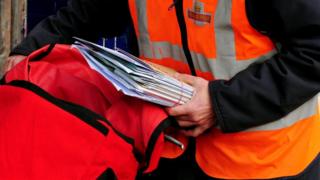 The Royal Mail has suspended deliveries to four addresses in part of Caithness.
It said its staff faced hour-long round trips to reach the homes at Altnabreac on private tracks which are in a poor condition.
A spokeswoman said postal staff were also unable to call for help if they had a breakdown due to there being no mobile reception in the area.
Residents can arrange to pick up mail from another address or in Halkirk, a round trip of more than 40 miles.
Altnabreac is in an area known as the Flow Country, a vast area of peatland that covers parts of Caithness and Sutherland.
Detailed assessment
There is a railway station in Altnabreac, which is often described as one Britain's most remote stations.
The spokeswoman for Royal Mail said: "Royal Mail has suspended deliveries to four addresses at KW12 at Halkirk and we are sorry for the inconvenience this causes customers.
"This step has been taken after a detailed assessment, as we believe that there is a risk of safety to our postmen and women who are delivering on private tracks off the public highway."
She said watchdog Ofcom's regulations state that delivery staff should not spend more than 15 minutes in a single trip on private roads to deliver mail.
The spokeswoman added: "Royal Mail wants to work with the customers to find a safe and sensible solution to this suspension."