Revised design of Kings House Hotel extension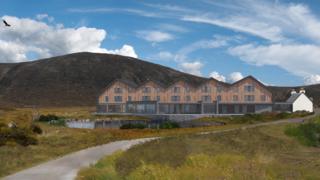 Revised plans have been drawn up as part of a proposed refurbishment of a landmark hotel near Glen Coe following objections to the project.
The Kings House Hotel on Rannoch Moor is well-known among hillwalkers and climbers.
Mountaineering Scotland, National Trust for Scotland and John Muir Trust objected to the design of a new extension to the 1750s-era building.
The revised plans involve a lower roofline to the extension.
The hotel's owners said they were disappointed by the objections to the project, which had caused "much delay" to the refurbishment of the original building.
James Allan, surveyor with managing agents Bidwells, said on behalf of one of the Kings House owners, Charles Adriaenssen, said considerable investment would be put into the site.
Mr Allan said: "The family, who have owned property in the area for well over 50 years, is ready to invest more than £10m into the rebuilding of the landmark Kings House Hotel to convert it into a place where visitors will have the opportunity to enjoy the wonderful environment.
"Considering that a basic renovation of the existing hotel would have been impossible and unsatisfactory because of the very bad condition of the building, poor layout and substandard facilities, a new building was the only valid option."
Mountaineering Scotland, which represents the interests of outdoor pursuits enthusiasts, did not object to original plans to refurbish and extend the hotel.
But it did, along with National Trust for Scotland and John Muir Trust, lodge an objection with Highland Council to updated version of the extension.