Video game set on St Kilda-inspired island gets live show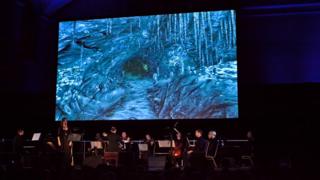 A video game set on an island based on the tiny isle of Boreray in the remote St Kilda archipelago has been turned into a live show.
Dear Esther is a first-person exploration game created by Brighton-based game development studio The Chinese Room.
The new show has been described as part video game, ghost story, concert and film screening.
Its UK tour includes a visit to Edinburgh's Usher Hall on 20 January.
The shows involve the game being played live in front of an audience.
The tour started at Glasgow's Sonica Festival earlier this month.
Dear Esther was first released commercially in 2012.
Jessica Curry, who composed the game's soundtrack and is a co-founder of The Chinese Room, said: "Dear Esther really has stood the test of time.
"Going back to it, we still felt so passionate about it. We realised that we're missing a trick here, in not playing it live, as it has so many advantages that way.
"And one of the most exciting things about this tour is that no audience is going to get the same experience. The play through can change every night."
Boreray is part of St Kilda's group of small islands, which lie 41 miles (66km) west of the Western Isles.
The uninhabited isle's sheer sea cliffs and sea stacks are home to thousands of seabirds and what land is available is grazed by hardy feral sheep.
Mullach an Eilein, the highest point on the isle, rises to just above 384m (1,260ft), making Boreray the smallest Scottish island to have a summit higher than 304m (1,000ft).