Altnaharra 'dig your own ultrafast broadband' goes live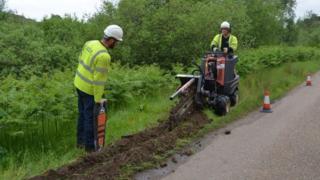 A broadband project that involved a community digging the trenches for the cables has gone live.
Openreach claims Altnaharra, a group of about 60 households in Sutherland, is now connected to some of the fastest broadband speeds in Scotland.
To hasten the process of installing the connections, local people and workers from Altnaharra Estate helped to lay about 4,800m of the cable needed.
Openreach said broadband speeds of up to 330Mbps were now possible.
Previously, Altnharra had some of the slowest connections in Scotland.
Homes in Skerray have been connected first with households in the wider Altnaharra area getting access to the ultrafast services over coming weeks.
'We promised'
The "dig your own broadband" project was run as a pilot.
Openreach said some of the techniques used, including a new type of digger, are now being used elsewhere in the UK.
Chief executive Clive Selley said: "We promised the people of Altnaharra and Skerray their new ultrafast services by this autumn, and we've delivered to the majority in Altnaharra ahead of schedule and are on track in Skerray.
"They'll see their internet connections rocket from some of the slowest speeds in Scotland to some of the fastest, and it's great to hear that the first local residents and businesses are already making use of the new, ultrafast network."
Pieter Bakker, estate manager of Altnaharra Estate, said the difference quicker broadband speeds had made to his business was "massive".
He said: "For the first time, I can download and upload documents and forms from work-essential websites like the Scottish government's Rural Payments and Inspections Division and Scottish Natural Heritage, and send emails in seconds.
"It's made all kinds of online paperwork easier - previously I'd spend hours trying then checking to see if my message or form had eventually been sent - often not."