New record for an object sent into space from UK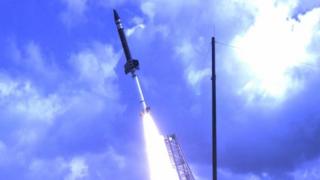 A new record for the largest and highest object launched into space from the UK was set earlier this year, it has emerged.
The Terrier Oriole rocket was launched from Benbecula in the Western Isles during Nato exercise Formidable Shield.
The rocket, used by US space agency Nasa and almost 4m (13ft) long, reached an altitude of 155.6 miles (250km).
The Terrier Oriole was used to represent a ballistic missile and was tracked and then destroyed.
The Hebrides Range, which is managed by Ministry of Defence contractor QinetiQ, was used for the launch. QinetiQ confirmed the setting of the new record.
Sites in Uist in the Western Isles and on Hirta, the main island in the St Kilda archipelago, which lies about 40 miles (64km) west of North Uist, form parts of the range.
The range involves a large area of sea.
Formidable Shield was held in September and October. It was the first time in Europe that Nato allies had trained together to test defences against simultaneous anti-ship and ballistic missile threats.
Fourteen ships, 10 aircraft and about 3,300 personnel from the UK, US, Canada, France, Germany, Italy, the Netherlands and Spain were involved in the exercise.