Isle of Barra's flag officially recognised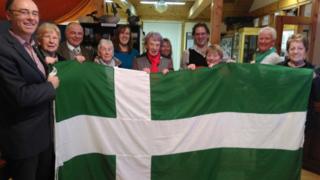 A flag representing the Isle of Barra has secured official recognition.
The green and white Nordic cross has been used by residents of the Hebridean island for decades.
Following a campaign, the flag has been granted the seal of approval by heraldic authority, the Court of the Lyon Court.
In June, the flag was draped over the coffin of Barra's Eilidh MacLeod, 14, who was among the victims of the Manchester Arena attack in May.
Philip Tibbetts, of the Flag Institute, which supported Barra's campaign, said it was "wonderful to see" the island's flag achieving official recognition.
He said: "In this past year Barra has shown the importance that a flag can have for its community - not only as a celebration but also as a symbol to rally around.
"As such it has been both an honour and humbling to have assisted Barra since I was first invited to the island last year.
"I am sure it will serve as a powerful example to the many other communities thinking of developing their own flag to promote their own identity and the patchwork of national heritage."
Barra follows South Uist in being a part of the Western Isles to have its flag recognised.
The Barra campaign was championed by the isle's two community councils, after an initial meeting led by local SNP MSP Alasdair Allan.
Northbay community councillor Dolina Manford said: "I am very happy to see that the Barra flag has now received official recognition from the Lord Lyon.
"It has been a long process but now the green and white Nordic cross that has been used in Barra for a number of years is officially registered at the Lord Lyon."
Mr Allan added: "When I originally held an exploratory meeting on this subject it was felt that recognition of the flag would help to boost the island's marketing efforts as well as celebrate its unique identity.
"I would like to thank Dolina for her efforts in driving this forward and I look forward to seeing some of the benefits this will bring."