Workers praised at trouble-hit BiFab's Arnish yard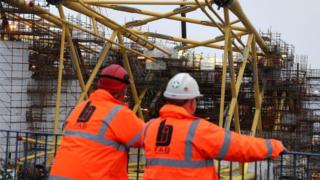 Economy Secretary Keith Brown has met workers at troubled engineering firm BiFab's Arnish yard on the Isle of Lewis.
During his visit, he thanked the staff for their efforts to support the company when it was at risk of being placed into administration.
He also outlined the Scottish government's commitment to securing the long-term future of BiFab.
Last week, the government said it was prepared to lend the firm up to £15m.
Just days earlier, an agreement was reached on how to alleviate BiFab's "immediate cash flow issues".
A financial package has been provided by Seaway Heavy Lifting, SSE and wind farm partners JCE Offshore.
It means the firm can continue working on a contract for the Beatrice Offshore Windfarm.
'Dignity and determination'
BiFab employs 1,400 people at yards in Fife and Lewis.
Much of its work involves constructing components for renewable energy projects.
Mr Brown said: "Last week was clearly a very anxious time for the workforce, their families, and the wider communities.
"The dignity and determination shown by the workforce, in the most challenging of circumstances, was integral to allowing the Scottish government to help broker a positive resolution."
He added: "The Scottish government's focus is to secure the long-term position of the company and to demonstrate our commitment to support projects that show an innovative and world-leading approach to low carbon energy and local energy solutions."