Deer rescued from tangle with goal net in Lochinver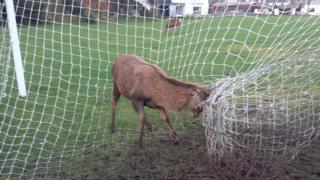 A red deer stag had to be rescued after getting its antlers tangled up in a goal net in Lochinver in the Highlands.
Assynt Foundation manager Gordon Robertson and gamekeeper Stuart Belshaw managed to free the animal from the net at a pitch in the Sutherland village.
It was not the first Highlands stag to get its antlers caught in something it should not have.
In March, a red deer stag was spotted in Applecross in Wester Ross with a bra tangled in its antlers.
The stag, one of several that graze around houses in the village, snagged the item of underwear while passing a washing line.