Seal pup cut free from plastic net in Western Isles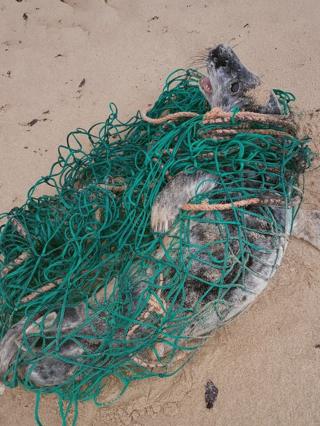 A seal pup has been saved after getting tangled up in a length of plastic net in the Western Isles.
The five-week-old grey seal pup was found on a beach near North Tolsta on Lewis.
David Yardley, local area coordinator of British Divers Marine Life Rescue, and helper Lyndsey Dubberley managed to free the animal by cutting it free.
Mr Yardley said: "The rope had gone round its neck and it's incredible it was not strangled.
"We did not expect to find the pup alive after first being told about it on Sunday, but it was in a remarkably good condition considering.
"They have some blubber around their necks which would have helped it."
Tiny plastic pieces
He added: "We have seen some horrific injuries this year and this highlights the need to keep our seas clean - particularly from plastic."
Marine plastic pollution has become an increasing problem, and has been highlighted in episodes of the BBC's Blue Planet II documentary series.
Scientists in Scotland have also been raising awareness on the issue.
A study published earlier this year suggested a high prevalence of seabirds swallowing plastic.
Another piece of Scottish research reported that tiny pieces of plastic were being found in deep sea creatures, such as sea stars.
Image copyright of BDMLR.