Islanders on Barra face losing only bank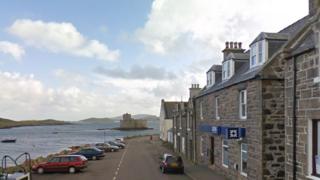 The only bank on the Isle of Barra in the Western Isles could close under plans by RBS.
A total of 62 RBS branches are under threat across Scotland, with the loss of 158 jobs.
If the branch in Castlebay on Barra shuts, islanders' nearest bank is 24.7 miles (39.7km) away in Lochboisdale on South Uist.
The journey involves taking an hour-long ferry journey and then driving for about 30 minutes.
RBS has told its customers on Barra that it will be releasing information on a new timetable for visits by a mobile bank.
Western Isles SNP MP Angus MacNeil has strongly criticised RBS' closure plans.
He has called on the bank's chiefs to visit Barra to see for themselves the logistical challenges of getting to Lochboisdale.
Mr MacNeil said: "To go to the RBS branch in Uist you are talking about spending half a day trying to get there and back.
"In a response I have had from RBS they tell me getting there involves a journey of 24.7 miles, but they have not mentioned that the trip involves a ferry."
He added: "RBS has also sent me a link to where the nearest free-of-charge ATMs are.
"The list includes ATMs in Tobermory and Mallaig. It would take two days to go to those cash machines."
RBS has since told Mr MacNeil that the ATM in Castlebay will remain.
The MP urged RBS to reconsider shutting the rest of the bank.
He said: "To ensure the continual running of the ATM, RBS now need to have a staff member in Barra.
"Given there are only three staff members, two with part-time hours and that all the business on the islands of over 1,000 people use and need RBS, it is time for the bank to think through sensibly the other part of their decision."
Western Isles local authority, Comhairle nan Eilean Siar, has also criticised the RBS closure plan.