Review of uplift at CairnGorm Mountain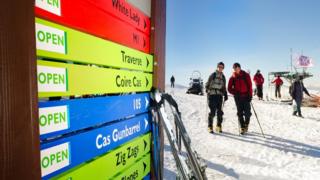 A "major and comprehensive" review is to be made of ski tows at CairnGorm Mountain snowsports centre near Aviemore.
Highlands and Islands Enterprise (HIE), which owns the site, has sought tenders for the work.
The results of the review, which are expected in a report next September, would also inform a new, long-term strategy for developing the wider site.
HIE is facing a potential community takeover bid of the centre.
Those involved in the bid have criticised the level of investment put into the site by the enterprise agency and Natural Retreats, which has a 25-year lease of the centre.
The snowsports area is split into two main basins. They meet at a high plateau where several pistes converge and where the main nursery slopes and other facilities are located.
Coire Cas, the main basin, includes a funicular railway and six ski-tows.
There are four tows in the upper part of the second basin, Coire na Ciste.
The review will explore options for redevelopment of infrastructure in the lower part of Coire na Ciste, following a recent clear up of disused chairlifts.
HIE said the review was expected to begin in February with a final report due in September next year.
Susan Smith, head of business development at HIE, said: "CairnGorm Mountain is a major part of the sustainable tourism offering available in and around Aviemore and Strathspey.
"It is important to develop this key visitor attraction in a way that will increase visitor numbers, generate year-round income and provide employment.
"Importantly, this will support an industry that attracts young people, both as employees and as customers."
Janette Jansson, general manager at CairnGorm Mountain Ltd, which runs the centre on Natural Retreats behalf, added: "We are delighted that the uplift review is progressing.
"The results will be critical to informing the long term development of CairnGorm Mountain and ensuring that we create the very best experience for all, from experienced skiers and snowboarders to beginners.
"We will work closely with HIE and other interested parties to analyse the results and implications of the review."