DIY mountain bike tracks 'damaging land'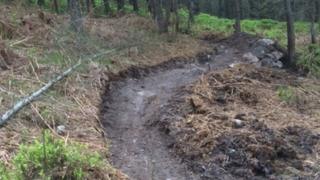 Unauthorised mountain bike tracks are causing damage to moors and woodland, a landowners organisation has warned.
Scottish Land & Estates said the "poorly constructed" trails posed a safety risk to riders and other visitors to the outdoors.
It said among places where footpaths had been damaged by mountain bikers was Sutherland Estate, near Golspie.
The estate has since laid out miles of mountain bike trails at a cost of £600,000.
Karen Ramoo, of Scottish Land & Estates, said: "The popularity of mountain biking in Scotland in recent years has been welcomed by rural communities across Scotland, with millions of pounds generated each year for the countryside economy through domestic and foreign riders visiting the trails.
"Mountain biking's popularity brings with it associated issues for farms and estates, however.
"We have witnessed a significant increase in riders constructing their own unauthorised trails and we are concerned that these trails are not fit for purpose and can present a real danger to riders and to other access takers."
She added: "We want to encourage people to enjoy mountain biking safely but also for access takers to communicate with farms and estates if they see issues when they are enjoying our countryside."