Body found in hunt for missing fisherman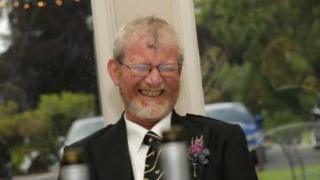 Police believe a body found on the Isle of Skye is likely to be that of missing fisherman Alasdair Macleod.
A man's body was discovered on the shore at Staffin Bay on Saturday.
It has not yet been formally identified but his family said there was "no doubt in our minds" that it was Mr Macleod.
The 57-year-old has been missing since his creel boat, Varuna, was found on rocks north of Applecross Bay in Wester Ross nearly three weeks ago.
Police said their enquiries were ongoing but there are not thought to be any suspicious circumstances.
A report will be submitted to the procurator fiscal in due course, they added.
In a statement published on Mr Macleod's blog, his family confirmed that a body was found in Staffin Bay by a member of the public.
They added: "This wasn't where it was expected to find him and there had been no official search in that area.
"Although official ID will have to be carried out by DNA tests, there is no doubt in our minds that this is Ali, from descriptions of clothing remaining on his body."
Shortly after his disappearance, the family published a blog in which they admitted there was "no chance" he would be found alive.
In a subsequent post last week, they said they were "in limbo" as they waited for his body to be found.
"We know that he most likely died fairly soon after he fell into the sea, and yet we have no body," they said.
They also revealed plans to hold a celebration of Mr Macleod's life in Applecross.
And they said they had been touched by the many tributes - including the naming of a community wind turbine in Coigach, which has been called Varuna.