GFG Alliance and Atlantis Resources strike deal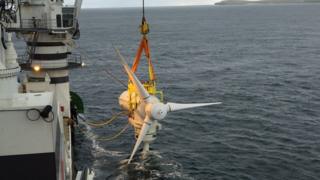 The owners of the Lochaber Smelter near Fort William have joined forces with the developers of a tidal energy project in part of the Pentland Firth.
The GFG Alliance is buying a share in Atlantis Resources, which is working on the MeyGen energy project.
As part of the agreement, Atlantis is acquiring the GFG-owned SIMEC Uskmouth Power Station power station in Wales.
Earlier this month, GFG revealed an ambition to become the largest provider of renewable energy in the UK.
It has begun the process of acquiring Green Highland Renewables (GHR), which has 18 hydro-electric stations across the Highlands.
The alliance has also proposed constructing eight new hydro-electric plants on land it owns in Lochaber.
It is also currently consulting on plans for a 54-turbine wind farm.