Ice warning for Scotland amid fresh snowfall in Highlands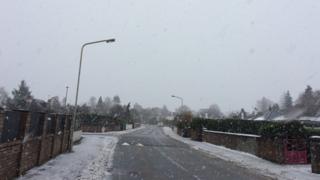 Snow and freezing temperatures that followed in the wake of Storm Caroline a week ago have caused disruption to travel and schools in the Highlands.
The Met Office has a yellow "be aware" warning for ice for Scotland and large parts of the rest of the UK for Thursday through to Friday morning.
In the Highlands, snow and ice has already been causing some disruption.
The A82 was closed for a time overnight in Glen Coe due to heavy snowfalls until snow ploughs cleared the route.
Driving conditions on the A82, and also the A9 in the Highlands, have continued to be challenging.
Four primary schools and five nurseries in the Highland Council area have closed.
Last Thursday's Storm Caroline brought strong winds to the north and north east of Scotland, disrupting travel, causing power cuts and closing schools.
'Virtually ineffective'
Strong winds and heavy snowfalls have heightened the risk of avalanches in Scotland's mountains, a group that monitors for the threat has already warned.
The Scottish Avalanche Information Service (SAIS) does not begin its latest forecasting season until Friday.
However, it has warned of a present potential risk of the snow slides on some slopes on hills and mountains.
It said walkers and climbers should be aware that their activities could trigger an avalanche.
Highland Council said its road gritting teams had been working "flat out" to clear roads in its region.
However, the weather conditions, in particular subzero temperatures, have been challenging the operations.
Highland Council's gritting fleet includes 105 gritters, 42 footpath tractors and over 200 staff providing winter maintenance services. They have been working flat out across the region within the council's agreed policies and resources available.
Temperatures of -10C have been experienced in places in the past week, the local authority said.
It added that treating icy roads with salt was "virtually ineffective" below -8C.
'Extra care'
Senior councillor Allan Henderson said: "Since Storm Caroline, road surface temperatures have been extremely low and although grit and salt is spread on priority routes, wash-off and re-freezing has been causing widespread formation of ice across the region.
"These are extreme, prolonged conditions that we are experiencing and the council's priorities have been focussed on keeping primary routes clear.
"All our available gritters are being deployed but they have to treat and re-treat primary gritting routes in the first instance with the result that not all secondary and other routes are being treated."
He added: "Motorists and pedestrians are asked to take extra care and to drive according to local conditions."
Since the start of the winter gritting service on 14 October, Highland Council has used 9,000 tonnes of salt which is 20% more than for the same time last year.