Raasay residents complain of lack of out-of-hours care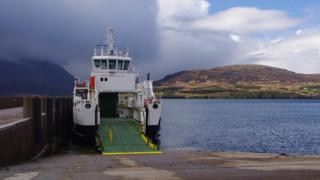 Residents of Raasay have renewed calls for greater improvements to the availability of out-of-hours medical care on the island.
Labour MSP Rhoda Grant has written to the chief executives of NHS Highland and the Scottish Ambulance Service.
Raasay Community Council has told her of delays in getting adequate cover.
NHS Highland said it agreed that the situation had to be resolved as a "matter of urgency" and was working on a plan with the ambulance service.
Concerns have been raised by islanders for a number of years about a lack of out-of-hours medical cover.
In 2015, community leaders said lives could be lost due to the island being left without out-of-hours medical care for a fourth consecutive month.
Ms Grant told BBC Radio Scotland: "I was involved in this matter a year ago and I stepped back to allow discussions to take place.
"A year on and we are no further forward."
She added: "NHS Highland have to make sure that people have an acceptable level of health care in place and it is just not good enough to prevaricate.
"They really have to get down to brass tacks and get this done."
'Strengthened service'
NHS Highland said an agreement was being sought with the Scottish Ambulance Service as a "matter of urgency" to enable the board to provide "the necessary cover 24/7 on Raasay".
A spokesman said: "The aim is to provide out-of-hours cover by recruiting health and social care support workers who will be on call on Raasay every night.
"As part of their job description, the support workers are to receive additional emergency training so that - following calls to NHS 24 - they can be called out to provide unscheduled care by the rural practitioners based in Broadford (on Skye), or by advanced nurse practitioners.
"The mechanism to enable this additional training to happen is dependent on a third party agreement, and that is what we are currently progressing."
The spokesman said that once the agreement was in place, and staff had been trained, the health board would be able to provide "a strengthened" out-of-hours service.