'Snowy McSnowface' factory making snow in Cairngorms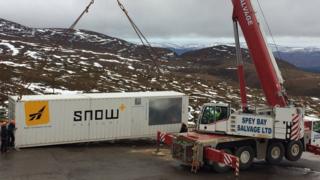 A snow-making factory dubbed "Snowy McSnowface" is producing the white stuff in the Cairngorms.
CairnGorm Mountain snowsports centre, near Aviemore, is one of three Scottish mountain resorts manufacturing snow this season.
It will be used to cover lower slopes at CairnGorm, also Glencoe Mountain and Lecht.
While this winter so far has seen heavy snowfalls over Scotland's mountain, last winter was a poor one for skiing.
There was a lack of snow and mild weather during the 2016/17 Scottish snowsports season.
High temperatures
CairnGorm Mountain's snow factory arrived earlier this month.
Staff at the centre have nicknamed the equipment Snowy McSnowface, a reference to last year's public preference for Boaty McBoatface for a new polar research ship.
Glencoe Mountain has a crowdfunding campaign to raise enough money to purchase the unit it is leasing.
The Lecht in Aberdeenshire is to trial the use of a large-scale snow-making unit in February and March, said Scottish snowsports body Ski-Scotland.
Highlands and Islands Enterprise has provided funding to The Lecht Ski Company for the trial.
The snow-making technology can produce snow even at high air temperatures.