Strathconon pupils relocated due to teacher shortage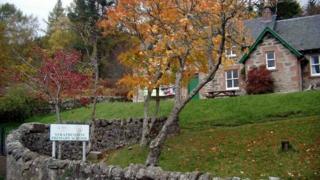 Pupils at a tiny primary school in the Highlands will be relocated to a school 12 miles away next term because of a teacher shortage.
The two staff members at Strathconon Primary School are moving to other posts and Highland Council has been unable to find replacements.
The 17 primary and two nursery pupils will be taught at Marybank Primary School until new staff are recruited.
The council has written to parents informing them of the situation.
Bill Alexander, director of care and learning, said: "As both existing teaching staff are moving to other posts it will not be possible to have new staff in place for the new term.
"We have considered various options for dealing with this situation, and have concluded that the least problematic option is to provide education for the children at an alternative location, until staffing can be put in place.
"Parents are being informed by letter today, that their children will, in the New Year, be transported each day to Marybank Primary School."
'Unfortunate situation'
He added: "Staff will plan this week for the children to visit the Marybank classes to help ease the transition.
"This is an unfortunate situation, but colleagues will work at making the best of it. We are interviewing for the position of principal teacher in the first week of term, and the class teacher post is being re-advertised."
The Scottish government said it invested £88m in 2017, recruiting 543 more teachers than last year.
A spokesperson added: "While teacher recruitment is a matter for local authorities, we recognise some areas have faced challenges filling vacancies.
"We are working closely with the Highland Council, and partner local authorities in the Northern Alliance, to address medium and long term teacher workforce issues."