Temperatures reach 15C in Sutherland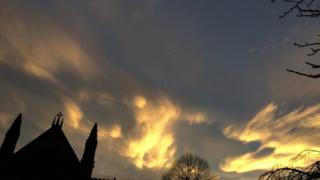 Milder weather with temperatures as high as 15C have been recorded in parts of Scotland following a recent spell of snow and freezing cold.
More than a week of wintry conditions followed in the wake of 7 December's Storm Caroline.
However, Tuesday has seen temperatures rise across Scotland, particularly in the north and north east which are experiencing the foehn effect.
It involves air warming as it moves up and over mountains.
The Scottish Environment Protection Agency has issued flood alerts Easter Ross and Speyside in Moray because the milder temperatures are expected to increase snow melt into local rivers overnight.
Scottish Avalanche Information Service teams have reported snow melt in Scotland's mountains, describing the warm and windy conditions as having a "hair dryer effect".
BBC Scotland Weather said it would be "unseasonably warm" on Tuesday.
It said "a balmy" 15C was recorded earlier at a Met Office observation station at Cassley in Sutherland.
The average daytime maximum at this time of year is 7C.
The foehn effect has been experienced in previous winters.
Snow and sub-zero temperatures that followed Storm Caroline caused disruption to travel and closed schools across the UK.