Cromarty Bridge repair work beyond halfway stage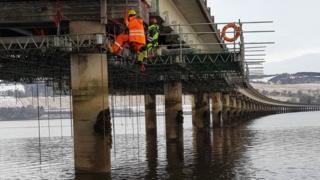 A £1.5m project to repair and improve the structure of the A9's Cromarty Bridge is more than halfway to being completed, Bear Scotland has said.
Scotland's trunk roads maintenance company began the work on the crossing's deck and supports in August.
Traffic lights have been in place on the bridge, near Dingwall, for safety reasons since the project began.
The controls are to be lifted and both lanes reopened from Friday until the work resumes on 8 January.
But Bear Scotland said that during this festive period break there would be a reduced abnormal load capacity.
Lorry loads heavier than 100 tonnes or 16.5T axle loads will not be allowed to cross the structure.
Bear Scotland said these restrictions would be lifted once works teams and the traffic management system were back on site in January.