Police issue fresh apology over harbour death case 'failings'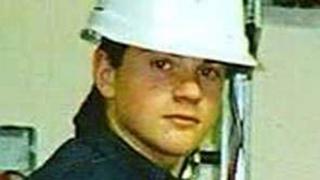 The family of a man who died in 1997 have received a personal apology from a senior police officer over the way the case was handled.
The body of 24-year-old Kevin Mcleod was found in Wick harbour.
His family believe that injuries on his body showed that he was murdered.
Deputy Chief Constable Iain Livingstone said there had been "serious failings" on the part of Northern Constabulary, and officers had missed "the opportunity to gather vital evidence".
Mr Mcleod's uncle, Allan Mcleod, said there had been a "deliberate failure" by police to carry out a murder investigation in 1997.
He said this had then undermined every subsequent inquiry into the case.
These have included a fatal accident inquiry in 1998, further police inquiries and a review by Police Scotland earlier this year.
This review assessed all the known information about Mr Mcleod's death, but found no evidence of criminality.
DCC Livingston said that due to "insufficient evidence", the cause of death could not be clearly indicated as having been either criminal or accidental.
He said any new information would be investigated.
Following a private meeting with Mr Mcleod's parents Hugh and June, DCC Livingston said he was disappointed their complaints about the police handling of their son's case were treated in "a dismissive manner".
'Strength and determination'
He said: "The tragic events leading to the recovery of Kevin's body from Wick harbour left Mr and Mrs Mcleod with a 20-year search for answers.
"I can only imagine the pain and trauma their family has suffered and I have nothing but the highest admiration for their strength and determination in seeking those answers.
"Since this tragic incident, numerous investigations have substantiated the family's belief that there were serious failings on the part of Northern Constabulary in both the initial and subsequent handling of this case.
"There is no doubt that basic policing procedures were never carried out and the opportunity to gather vital evidence was missed."
Mr Mcleod, an electrician, was last seen alive in the early hours of 8 February 1997 while on a night out with friends in Wick. His body was recovered from the sea the following day.
Public inquiry
Allan Mcleod said the family remained convinced that Kevin had been murdered, and accused police of failures in their investigations and a "cover up".
"We now demand that a public inquiry be held, or that Police Scotland invite an outside force to investigate who all was involved in the decision by police to deliberately ignore the Crown's murder inquiry instruction and why," he said.
In 2007, Northern Constabulary's chief constable apologised to the Mcleods over the way the force handled the case.
Ian Latimer had been ordered to take the step after a damning report into how the 24-year-old's death was investigated.
The Police Complaints Commissioner for Scotland said at the time that Northern Constabulary behaved with "institutional arrogance" in the way it handled complaints from Mr McLeod's parents.