Orca 'fed on seal before stranding in Storm Caroline'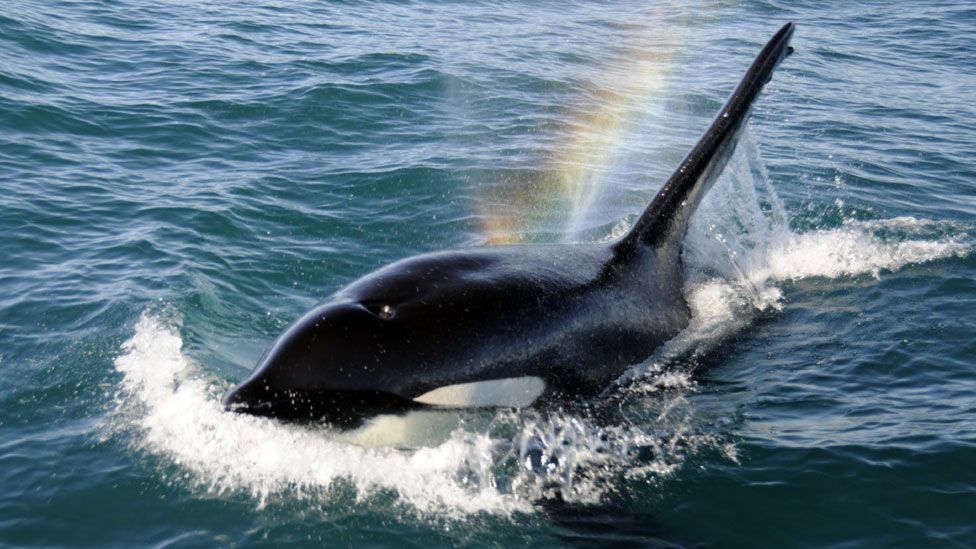 An orca fed on a seal not long before being stranded, probably during Storm Caroline, scientists have suggested.
The juvenile male was found dead in Shetland this week, but scientists believe it was still alive when it got into difficulty.
An examination of the carcass led by Inverness-led Scottish Marine Animal Stranding Scheme (SMASS) has found signs it had recently fed.
Seal fur, claw and partially digested lung were found inside the orca.
Storm Caroline brought strong winds to large parts of the Highlands, Western Isles and Northern Isles earlier this month.
Winds gusted to 93mph over Shetland on 7 December, according to the Met Office.
The storm was followed by a period of snow and freezing cold for most parts of Scotland.
Samples from the dead orca have been taken for further examination, including for pollutants.
An initial inspection suggests the animal was healthy.
Pods of orca feed around the Northern Isles and Scotland's north and west mainland coasts.
SMASS is part of Scotland's Rural College.
It gathers information on whales, dolphins, seals and sharks found stranded on Scotland's coast.
SMASS scientists also carry out post mortem examinations on the animals to determine what may have caused them to strand and die.
The organisation has thanked Hillswick Wildlife Sanctuary, Scottish Natural Heritage and SMASS volunteers for their help in the shoreline study of the orca.
Related Internet Links
The BBC is not responsible for the content of external sites.