Climbers who forgot map saved in Cairngorm blizzard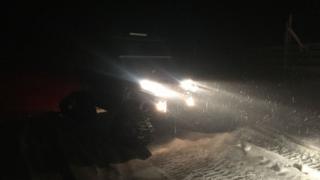 Three climbers who forgot their map have been rescued after they became lost in a Cairngorms blizzard.
The otherwise well-equipped trio, from Merseyside, had set out from the Cairngorm ski centre.
After the alarm was raised late on Wednesday, eight members of the Cairngorm Mountain Rescue Team used a tracked vehicle to access the area before setting off on foot.
The climbers were eventually led to safety after a five-hour operation.
Cairngorm Mountain Rescue Team leader Willie Anderson later said: "The party were excellently equipped but forgot their map.
"Despite having the best of gear this simple omission could have cost them their lives.
"Nowadays mountaineers spend huge sums of money on tremendous gear, but it's the few quid spent on a basic map and compass that is often the best investment."