Lochaber Mountain Rescue team's quietest year in a decade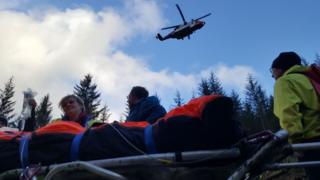 Lochaber Mountain Rescue Team has said 2017 was its quietest year for call-outs in a decade.
Its members responded to 78 calls and rescued 82 people. The team usually handles about 100 call-outs in a year.
It said the low number of call-outs was most likely due to 2017 having "virtually no winter", with little snow and mild weather.
Lochaber MRT's patch includes Ben Nevis which last year, for the first time in 11 years, lost all of its snow.
The mountain rescue team, which this year is marking 50 years since its formal formation, is usually one of Scotland's busiest.
It said the 78 call-outs last year had, unfortunately, included five fatalities.
The call-outs in 2017 included the rescue of two men after they spent nine hours stuck during a climb on Ben Nevis.
Seventeen members of the team also assisted in the rescue of a forester who was injured after a tree he was felling rolled off its stump and trapped him.