Falling glass panel shuts shops at Inshes Retail Park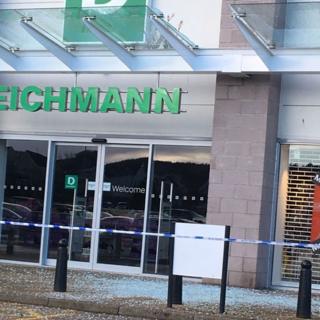 A glass panel has fallen from a shop front at an Inverness shopping area.
The incident at the Inshes Retail Park comes just months after a man was injured by glass falling at the city's Inverness Centre retail park.
Large parts of Inverness Centre were closed to allow for the removal of remaining glass panels.
Nearby shops at the Inshes Retail Park have been closed and the area cordoned off with police tape. No-one was injured.
Police were alerted by a member of the public at 07:12.
Highland Council said environmental health and building standards officers were investigating the incident.
A council spokeswoman said: "All the units that have the same type of canopy have been shut.
"There is no evidence as to what has caused the panel to fail and building standards therefore intend to serve a dangerous buildings notice prohibiting access to these units until the panels are removed or proved to be safe."