Trial of laser beams to scare sea eagles from lambs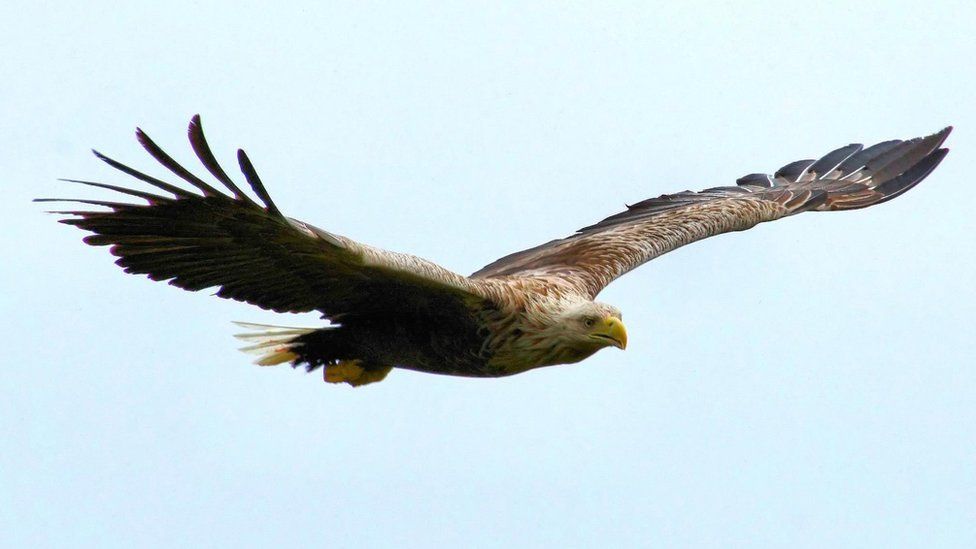 Shining laser beams onto hillsides could be used as a method of scaring white-tailed sea eagles away from flocks of sheep.
The technology is to be trialled in Argyll, an area where crofters and farmers have had issues with the raptors preying on lambs.
Scottish Natural Heritage said the trial would be "carefully monitored".
Argyll and Lochaber Sea Eagle Stakeholder Group's David Colthart said a contractor would carry out the work.
Lasers, which will be shone onto the hills and not directly at birds, are among potential new ways of deterring sea eagles from stocks of sheep, being considered by Scottish Natural heritage (SNH), and outlined by the agency last year.
Farmer and stakeholder group chairman David Colthart told BBC Radio Scotland's John Beattie programme that not all sea eagles were a problem.
However, he said some juvenile birds did prey on lambs.
He said if the laser trial was successful it could be rolled out under licence to other areas where eagles were causing problems.
Ross Lilley, SNH's Sea Eagle Project manager, said the "serious concerns" of some farmers and crofters about the impact of sea eagles on livestock had been acknowledged.
He said: "At this point, no trials on laser-scaring deterrents for sea eagles have been undertaken.
"They are under consideration along with other options. A carefully monitored trial will be critical to make sure lasers are a safe and effective method before we proceed any further."
Sea eagles are the UK's largest bird of prey and one of its most protected species.
Related Internet Links
The BBC is not responsible for the content of external sites.