Safety work completed after Inverness glass panel fall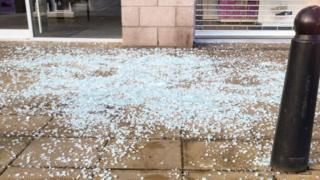 Safety work has been completed to a walkway at an Inverness retail park where a glass panel fell from a shop front.
The incident at the Inshes Retail Park came just months after a man was injured by glass falling at the city's Inverness Centre retail park.
Highland Council said safety measures had been put in place following Wednesday's incident.
Shops that were shut as a precaution have now reopened.
The local authority said that during the improvement work a crack was found in a glass panel outside Dunelm Mill, which is also at Inshes Retail Park.
A council spokeswoman said: "The glass has not shattered and the panel is still in place in the canopy.
"This canopy is more modern than the other ones running along Deichmann, Hobbycraft and Matalan and the glass is different.
"The glass appears to have performed as designed and there is no reason to consider the rest of this canopy to be a risk."
As a precaution, a temporary barrier has been put in place to prevent pedestrian access underneath the cracked panel and the site owner has arranged for a contractor to remove it.
The council spokeswoman added: " It is to the side of the entrance so the shop is open as usual."