Hial proposes centralising air traffic control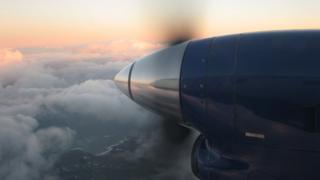 Air traffic control for seven Scottish regional airports could operate from one site under plans being considered by Highlands and Islands Airports Ltd.
If it goes ahead, the remote air traffic control system modelled on one used in Sweden would be the first of its kind in the UK.
It would involve airports at Inverness, Sumburgh, Dundee, Wick John O'Groats, Kirkwall, Stornoway and Benbecula.
Unmanned towers at the sites would feed information to a central hub.
Prospect, the union which represents air traffic controllers across the UK, opposed the idea when it was outlined last year.
Highlands and Islands Airports Ltd (Hial) said £28m would be invested in new technology over the next 10 to 15 years, if the planned changes go ahead.
The Scottish government-owned company said its airports at Barra, Tiree, Islay and Campbeltown had different levels of air traffic usage and would not be affected by the changes.
Hial's board has agreed in principle to further pursue the remote towers solution following an earlier examination of the idea by consultants.
Talks on the proposal are to be held with staff.
Hial's managing director, Inglis Lyon, said "Our overriding priority is, and will always be, to deliver safe and secure air navigation services that will keep our airports open for local communities for the long term.
"Having already involved our air traffic control staff and key stakeholders in the full review of our air traffic management operations by leading aviation consultancy, Helios, the board have agreed in principle with the Helios recommendation to further pursue the remote towers solution."
No decision has been taken on where the central hub would be located.
But Mr Lyon said changes were needed to "future proof" Hial's operations.
He said: "Given the nature and location of our business and airports, we are already managing a number of challenges. These include staff recruitment and retention, increasing regulation, and increasing pressure on costs.
"Our role is to ensure that the airport network benefits from investment in its long-term future, secured through new technology."