Nasa rover Curiosity visits 'Scotland' on Mars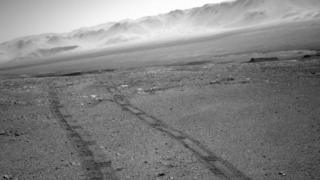 Nasa's Mars rover Curiosity is exploring a part of the planet named after Torridon in Scotland.
Martian geological areas and features have been named by Nasa after places on Earth.
Several of the names have been taken from Scotland and, as well as Torridon, there is a Siccar Point, Muck, Wick, Sandwick and Holyrood on Mars.
Five years ago, a celebration was held when Curiosity reached an area called Glenelg.
Nasa chose the name Torridon due to the Torridonian Supergroup, a geological formation in the north west Highlands that contains some of the oldest evidence of life of any rocks in the UK.
Berwickshire coast
Prof John Bridges, of the University of Leicester and a participating scientist on the Mars Science Laboratory Mission, said the Red Planet had been divided up into quadrangles by scientists studying it.
Curiosity is scheduled to spend a year exploring the Torridon quadrangle.
Prof Bridges told BBC Alba: "The group thought it appropriate to have a Scottish quadrangle because Scotland is really the birthplace of geology.
"Torridon has this red sandstone called the Torridonian which are the oldest sediments in the UK, and they are a great analogue for what we are seeing on Mars."
Geological features on the planet, such as rocky outcrops, have also been given Scottish names.
These include Yell and Sandness in Shetland, Coll, Arran, Oban and also Siccar Point on the Berwickshire coast, an area of geology studied by Edinburgh-born 18th Century geologist James Hutton.
Talisker and Laphroaig, the names of two Scottish whiskies, have also been used.
Another of the features has been called Stonehaven, where there is a chip shop that claims to be the birthplace of the deep-fried Mars bar.
In October 2012, the small Scottish community of Glenelg in the west Highlands marked Curiosity's arrival at its namesake on the Red Planet with a ceilidh.
Guests at the event included former astronaut Bonnie Dunbar and Scotland's Astronomer Royal, Prof John Brown.
Ms Dunbar flew on five space shuttle missions in the 1980s and 1990s on Challenger and Columbia.
In 1995, she flew in the first shuttle mission to dock with the Russian Space Station Mir. Three years later, she flew in the last mission to deliver a US astronaut to Mir.
Ms Dunbar's paternal grandparents came from Scotland. Her grandfather Charles Dunbar was born in Dundee and her grandmother Mary was born close to Gardenstown, near Banff.