Eight-year-old 'inspiration' Kyle has true grit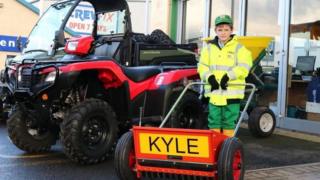 A Highland youngster has shown his true grit during the recent extreme weather.
Eight-year-old Kyle Mackay is an inspiration after his selfless snow clearing and salt spreading efforts for people in his local village.
The schoolboy spends every spare moment making sure no one in his area has to risk a fall by clearing the paths and pavements.
Kyle has been rewarded with a gift of his own gritting trolley and hi-vis jacket to continue his endeavours.
His mother, Allana Mackay, said the bitter weather started it all: "He is only eight, so this is the worst winter he has ever seen.
"At one point we had about seven-and-a-half inches of snow and Kyle was concerned people would fall.
"So he got his wheelbarrow and shovel and put on his boiler suit and walked round to the grit bin at the village hall in the next street and filled it up before clearing as many paths as he could."
Kyle quickly became a local hero, with local people posting praise on the Kiltarlity community Facebook page.
Allana, 32, said it is in his nature to help: "He is a wee boy that wants to be outdoors. He would run outside in his wellies and nothing else when he was little.
"He always wants to help cut my grass. And at school he struggles in the classroom because he wants out, so the school gives him jobs to do."
Kyle got a big surprise when the his efforts were recognised by Kiltarlity Community Events.
With the help of local housebuilder William Gray Construction and MacGregor Industrial Supplies, they presented him with his own personalised gritting trolley and high-visibility jacket.
North Kessock Primary School pupil Kyle was delighted.
Allana said he is now taking his role very seriously: "He checks the weather forecast on my phone.
"And now he thinks he is an employee of the council. He asked me: 'Who is my manager?'- he is very funny."
'An inspiration'
And Kyle is happy to receive the praise. He told the Kaye Adams Programme: "I've been gritting the pavements so nobody slips and hurts themselves.
"People are saying thank you and we are so proud of you."
Now Kyle accompanies Willie Matheson, chairman of Kiltarlity Community Events, when he clears the pavements around the village.
Willie said: "He is an inspiration to us all.
"We all do this voluntarily and every volunteer helps.
"We get on really well together and I felt it was important he got his own wee gritter."
Kyle is now such a salt superstar he has been commended by Scotland's transport minister Humza Yousaf.
He tweeted: "What a kid!
"If Kyle wants a look round a salt depot and to see our gritters up close. I am sure our Operating Companies would be more than happy to oblige."