Cuts to Highland Council school staff 'off the table'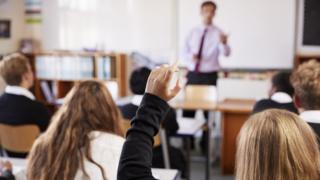 Highland Council's ruling administration is to propose protecting posts in its schools from cuts.
It has been looking at a raft of draft ideas on saving millions of pounds, including reductions in teaching staff.
But the council's budget leader Alasdair Mackinnon told BBC Radio Scotland that suggested cuts to 300 jobs in schools were "off the table".
A finalised set of proposed savings to other services is due to be considered by the full council on 15 February.
Draft papers from council officials setting out suggestions where savings could potentially be made across the local authority's services and funding support were leaked last week.
They included suggested cuts to numbers of teachers, additional support needs staff and pupil support assistants.
Mr Mackinnon said the council would seek to protect its frontline services from savings.