Moray Firth wind farm's first electricity expected in July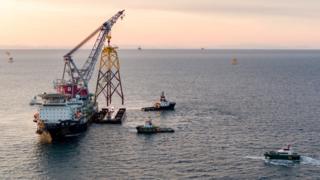 The first electricity could be generated from the £2.6bn Beatrice Offshore Windfarm Limited (Bowl) project this summer, SSE has said.
The energy giant, one of the companies involved in the scheme, said the "milestone" in the Moray Firth scheme could be reached in July.
Before then work to install the infrastructure needed for the first of 84 turbines has to be completed.
SSE said there remained "a lot to do" but the work was progressing.
So far, in the last 12 months, all offshore pile clusters and more than a third of jacket substructures needed for the turbines have been put in place.
More than 37 miles (60km) of subsea cabling has also been laid, while the construction of a substation at Blackhillock, near Keith, is due to move to the next phase.
Renowned engineer
Construction of the wind farm is scheduled to be completed in 2019.
SSE expects the farm to generate 588MW of power - enough electricity for about 450,000 homes, according to the energy company - once it is operational.
During this year, workers will begin moving into Bowl's operations and maintenance base in Wick, Caithness.
The buildings involved were originally developed in 1807 by renowned Scottish engineer Thomas Telford.
Bowl is expected to be operational for 25 years.