'Irony' of snow-making in Scotland's 2017-18 ski season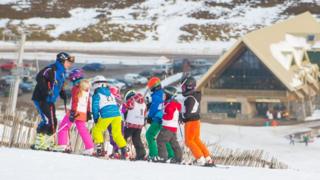 Ski-Scotland's chairman has spoken of the irony of three snowsports centres investing in snow-making when there is lots of the natural white stuff.
Glencoe Mountain, The Lecht and CairnGorm Mountain have brought in "factories" to manufacture snow.
The centre's decisions to do so followed a poor 2016-17 season.
Andy Meldrum said natural snowfall had already pushed the number of skier days this season far above the figure for all of the last one.
'Pent-up desire'
Glencoe, The Lecht and CairnGorm are among Scotland's five mountain snowsports centres. The others are Glenshee and Nevis Range.
They were all able to start the new season in November, though were beaten by Lowther Hills Ski Area in the south of Scotland to being the first outdoor centre to offer skiing and snowboarding.
Some of the best condition were enjoyed last month due to heavy snowfalls and cold, calm conditions.
Mr Meldrum, of national snowsports industry body Ski-Scotland, said: "Great snow and weather conditions in early January brought out skiers and snowboarders who'd been frustrated last season.
"It's almost like there's a pent-up desire to come sliding at one or other of our five mountain resorts."
Mr Meldrum added: "It's ironic really that three of our ski areas have obtained the use of Technoalpin snow factories to make snow in marginal conditions and yet Nature has delivered natural snow for all of our resorts.
"Long may that continue."
Mr Meldrum said it was hoped the Winter Olympic Games, which start in PyeongChang on 9 February, would boost interest among people to visit the outdoor centres as well as Glasgow's indoor site, Snow Factor.
Glencoe Mountain, The Lecht and CairnGorm Mountain are using snow-making technology to cover lower slopes and help prolong their seasons.
Natural snow can never be guaranteed in Scotland.
Last year, the snowsports season was poor due to a lack of the white stuff and frequent spells of mild and windy weather.
Glencoe Mountain, which dates to 1956, said the 2016-17 was its worst on record with skiing possible on only 32 days.
Previous seasons have benefited from heavy snowfalls and low temperatures.