'Right coffin' opened in Highland clan chief mystery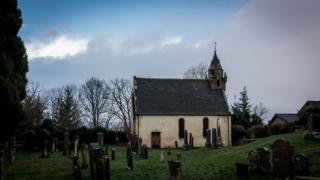 The custodians of a mausoleum believed to be the last resting place of a notorious chief say the correct coffin was opened in the search for him.
The contents of the lead coffin at Wardlaw Mausoleum, near Inverness, were the subject of a forensic examination.
It had been expected the remains of Simon Fraser, 11th Lord Lovat and known as The Old Fox, would be inside.
After no trace of him was found, author Sarah Fraser has asked if his remains were scattered and now long gone.
What were discovered inside the coffin were the remains of a headless young woman and bones from four other people, including a child.
Fraser, who has written extensively about the Old Fox and is involved in the effort to end the mystery of his final resting place, has suggested Lovat's coffin plate may have been switched.
Wardlaw Mausoleum Trust said the author had raised an interesting question amid the continuing mystery about the clan chief.
In a post on its website, the trust said the coffin opened had all the hallmarks of having been specially made for the Old Fox, and having the correct plate.
The trust said work would continue to try to identify the young woman and the other remains found in the coffin.
A team led by forensic anthropologist Dame Sue Black, of the University of Dundee's Centre for Anatomy and Human Identification, worked with historian Dan Snow on the forensic examination.
---
A Fox's Tale: Who was Simon Fraser, 11th Lord Lovat?
The clan chief, the last person to be beheaded in Britain, is recorded in history as a charmer who was prepared to switch sides during and around the times of the Jacobite uprisings.
But the last of those risings, in which he supported Bonnie Prince Charlie, ended in defeat for the Jacobites at Culloden in April 1746. The following year, Lord Lovat was executed at Tower Hill in London.
It is said that several people who had gathered to watch the beheading died after the scaffold they were on collapsed.
Lord Lovat found this incident funny and is said to have been so visibly amused by the incident, just prior to his death, that it led to the phrase "laughing your head off".
After being beheaded, his body was buried under the floor of a chapel at the Tower of London, according to the official account.
However, according to Clan Fraser, his body was intercepted by his supporters and taken back to Scotland in a coffin specially made for him and he was laid to rest in his family's Wardlaw Mausoleum.
The floor of the chapel in London would have to be lifted to check if the Old Fox was indeed buried there.