First decommissioning project for Port of Cromarty Firth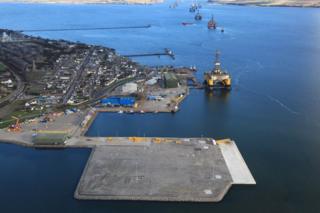 A Highlands port has secured its first work decommissioning offshore oil and gas industry structures.
An area of Invergordon's Port of Cromarty Firth will be used for breaking up subsea infrastructure from Fairfield Energy's Greater Dunlin Area.
Aberdeen-based Bibby Offshore will dismantle the structures at sea as part of a three-year, multi-million-pound contract decommissioning contract.
The Port of Cromarty Firth has been actively seeking such work.
Its chief executive, Bob Buskie, said: "The port is delighted to welcome its first decommissioning project.
"We have worked for many months alongside our alliance partners who are leading the onshore decommissioning to successfully secure this project and we are grateful for their efforts."
Aberdeen-headquartered Fairfield Energy said the engineering work was due to start immediately.
It said all materials transported onshore to the Port of Cromarty Firth would be broken down into transferable loads before being transported to the "appropriate disposal and recycling locations".