Caithness NHS service concerns raised with Shona Robison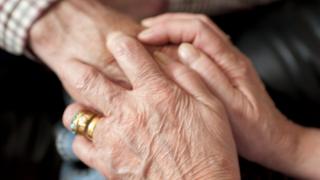 Caithness Health Action Team (Chat) has raised concerns about NHS Highland services in its area with Health Secretary Shona Robison.
Members of the campaign group set out concerns about changes to maternity services, which sees expectant mothers travelling to Inverness for births.
They also said there was uncertainty over the future of hospitals in Wick and Thurso.
NHS Highland, whose chairman attended, said the meeting was "useful".
Changes to health services that have already taken place, and those planned, have been the source of public protests in Caithness.
In November last year, NHS Highland said it would spend up to 15 months consulting with communities in Caithness on options for how health services should be delivered locally.
The health board wants to redesign Caithness' health and social care services, including hospital provision.
Campaigners had called on the health board to abandon planned redesigns and instead enhance existing levels of services.
NHS Highland agreed to begin its redesign process from a "fresh start".
But it said the shape of health services in the area would still require "innovative and ambitious" changes to meet demands and challenges over the next 10 to 20 years.
Also in November, partly in response to the need to take expectant mothers to Raigmore Hospital in Inverness, increased investment to improve ambulance cover in Caithness was announced.
Following Wednesday's meeting at Holyrood, NHS Highland's chairman David Alston said: "I was asked to attend as chair of NHS Highland and it was useful to be able listen to what representatives from Chat had to say about health and social care services in the north of Scotland and to hear the cabinet secretary's response."