Operations disrupted at Raigmore due to cracks in walls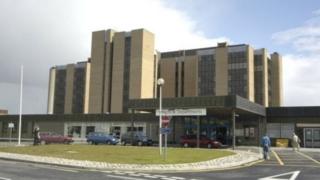 All planned operations have been cancelled at Raigmore in Inverness due to "superficial cracks" on some walls of the hospital's main theatre.
NHS Highland said structural engineers have confirmed there were no structural issues, but had raised concerns about the cracks.
It said the "clinical decision" was made to stop all operations within the theatre complex until further notice.
The health board said contingency plans were in place for emergency operations.
The situation has come just days after the end of disruption to surgeries caused by dust contaminating the floors of theatres.
Work is currently ongoing to upgrade the theatre complex within the hospital in Inverness.
'Truly sorry'
NHS Highland said as this work has progressed "unforeseeable issues" have been identified within the existing building structure which has led to the necessity to cancel all planned operations.
Contingency measures have been implemented to ensure all emergency operations will continue as normal but outwith the affected theatre area.
The health board said all theatres in the main theatre complex had been assessed and work had started to get them fully operational as soon as possible.
Ron Coggins, clinical director for the surgical division at Raigmore, said: "It was not possible to foresee this complication, but I am reassured that we do have a plan in place to get our theatres operational as soon as possible.
"The clinical team have also started to look at our patient lists to prioritise the work that we need to do once our theatres are operational.
"We are examining all theatre capacity across all sites in Highland and are also in discussions with NHS Grampian and others to see how they may assist."
He added: "We are truly sorry for the disruption and concerns this will have on our patients across Highland.
"I would like to assure patients and the public that senior clinicians will be prioritising all cancer and other urgent patients. I am also content with the plan we have in place to manage all emergency patients."
Mr Coggins said he could not say with certainty how long the theatres would be out of use but it would "certainly be this week and also into next week".