Flag for Sutherland to be recognised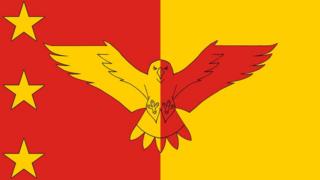 The process has begun to formally recognise a flag to represent Sutherland in the Highlands.
A competition was held to find a design that reflected the county's history.
The Flag Institute said the winning flag's red and gold were colours associated with Earls of Sutherland since the 12th Century.
It added that the stars reflected the earldom's traditional symbols, while the eagle represented the golden and sea eagles found in the area.
The Court of the Lord Lyon has ordered the start of the process of formally recognising the flag.
The design has drawn some criticism on social media, with one post describing the design as like a banner for a "Mongolian third division football team".
Others asked why the Scottish wildcat, an animal that has been associated with Sutherland, was not included.
There has also been online support for the flag.
Sutherland's neighbouring county, Caithness, already has its own flag.