Road and rail disruption amid wintry conditions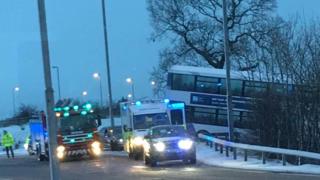 Overnight snow and ice have caused some travel disruption in parts of Scotland.
A lorry has collided with a railway bridge near Achnashellach, in Wester Ross, resulting in disruption to train services between Kyle and Inverness.
In North Lanarkshire, a double decker bus went off the road and crashed into a ditch at a roundabout in Stepps at about 07:15.
Police Scotland said the driver was uninjured and there were no passengers on the bus at the time.
The weather has also led to the closure, or the delayed openings, of schools in the Highlands.
Fifty-five schools have closed, opened later or have school transport issues in the area. Almost 2,000 children were affected.
The Met Office had a yellow weather warning for snow and ice in place for much of Scotland until midday.
On the roads, police in Stirling warned of very icy conditions. There were also reports of heavy snow falling on parts of the M77.
The Met Office chief forecaster said: "Showers of hail and snow are expected through Monday morning. The showers will be heaviest and most frequent across western and northern Scotland where 2-5 cm of snow is likely to accumulate relatively widely, with some areas, particularly above 150m, possibly seeing 6-10 cm of snow."
The weather warning stated: "Longer journey times by road, bus and train services are likely while some vehicles could become stranded.
"Ice is likely to form on untreated pavements, cycle paths and roads leading to some injuries from slips and falls.
"Power cuts may occur and other services, such as mobile phones, may be affected."