Transgender issues film wins awards at Gaelic's FilmG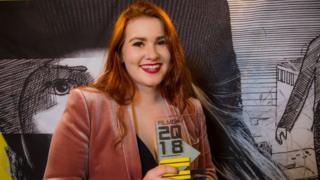 A short film which tells the story of the challenges faced by transgender woman has won its maker two awards.
Edinburgh Napier University student, Lana Pheutan from Skye, won best performance and best student film at the FilmG awards in Glasgow.
Her short, Coig Puing a' Trì (Five Point Three), was described as "powerful" by the national Gaelic short film contest's judges.
The full list of winners can be found on FilmG's website.
They include Lachlan Peel, from Edinburgh, who won the youth prize for best film with his Eòghan Beag: Latha Mòr (Wee Ewan: A Big Day).
Also brothers Eòin and Anndra Cumming, from Laide, who won awards in two separate categories.
Eòin won the youth award for best mobile short for the second year running, with a film about kayaking.
His younger brother Anndra won the best sports commentary award.
FilmG, which has been running for 10 years, attracts entries from film-makers from across Scotland.