Weather hampers rescue team efforts to find missing men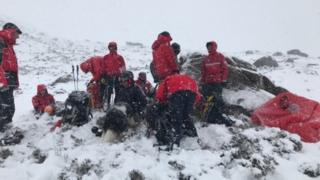 Mountain rescue teams have encountered "very challenging conditions" in their efforts to find three climbers.
On Sunday a man fell through a cornice, an overhanging ledge of snow, on Beinn a' Chaorainn, near Roybridge, in Lochaber.
Lochaber Mountain Rescue Team have been making searches for the climber, but bad weather and avalanche risk have limited their efforts.
Searches have also taken place recently for two other missing men.
Neil Gibson, 63, set out to climb a group of Munros north of Strathcarron, in Wester Ross, with his brother Alan last Thursday.
The body of his 56-year-old brother was found on Saturday evening. Their dog, a black Pointer named Archie, also remains missing.
Also missing is a hillwalker who fell through a cornice on Ben Nevis into Observatory Gully below on Sunday 21 January.
Avalanches and the risk of further snow slides have had an impact on the efforts to find the man.
In the search for Neil Gibson, Torridon Mountain Rescue Team has also told of "very challenging" weather.
It said high winds and fresh snow hampered a search effort at the weekend.
Torridon along with RAF Lossiemouth and Dundonnell MRTs, Sarda Scotland search dogs and handlers, police and coastguard helicopters have been involved in searches for the brothers.
In a statement, Torridon MRT said: "Our thoughts and condolences are now with the family and friends of the brothers."