Most upland bird species declining in numbers, says SNH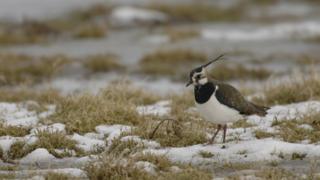 Upland birds have suffered a "worrying decline" in most species, according to new figures.
Scottish Natural Heritage's latest analysis shows 10 out of 17 breeds fell in numbers, decreasing by 16% in total.
The Official Statistic for Terrestrial Breeding Birds looked at data from between 1994 and 2016.
The statistics suggest better breeding success among woodland and farmland birds, with an increase in their numbers.
Simon Foster, trends analyst at Scottish Natural Heritage (SNH), said: "It's wonderful to see that woodland and farmland birds are not only holding their own in Scotland, but that many are thriving.
"However, with some upland birds struggling, there are a lot of people and projects working hard to improve conditions for waders - some of which have seen worrying declines.
"We and many of our partners are hoping to see these birds fare better in the coming years."
Bounced back
Woodland specialists - such as great-spotted woodpecker and chiffchaff - showed the largest increases, at 67%.
Great-spotted woodpeckers have expanded across Europe, with researchers saying it could be as a result of larger forests and woodlands becoming more connected.
For farmland species, goldfinches have continued to increase and have become a common sight in most gardens.
Whitethroat, a small migratory warbler, have also bounced back from historical lows associated with droughts in their Sahelian overwintering grounds in Africa.
Upland birds are the most "concerning" group, with declines for 10 of the 17 species.
Among the worst hit are breeding waders, including curlew, golden plover and lapwing.
SNH said major work is under way to help tackle these declines, including extensive peatland restoration and a Working for Waders project.