Climate report 'incorrect' on investment in snow-making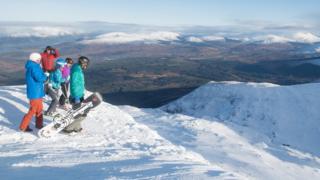 A claim three Scottish snowsports centres are spending "more than half" their operating budgets on "snow factories" is wrong, says the industry.
The claim was contained in the Climate Coalition report, In Game Changer: How climate change is impacting sports in the UK.
In a joint statement, Ski-Scotland and Association of Scottish Ski Areas (ASSA) said this was "incorrect".
They said instead the use of the technology had been subsidised.
'Heavily subsidised'
Ski-Scotland and the ASSA also said the snowsports centres involved, CairnGorm Mountain, The Lecht 2090 Ski Centre and Glencoe Mountain, were not contacted by the report's researchers for information on the use of the factories.
The report was published earlier this month.
Two Technoalpin snow factories are currently being used in Scotland to add snow to ski slopes at lower levels and help prolong the snowsports season.
One of the factories was used earlier this winter in a trial "heavily subsidised by the manufacturer" at CairnGorm Mountain.
The same machine is now trialled at The Lecht, with financial support from Highlands and Islands Enterprise.
The other factory has been leased by Glencoe Mountain following a crowd-funding initiative, which is ongoing in a bid to buy the machine outright.
Referencing Met Office data, the report also warned that a trend for milder winters could be "potentially devastating" for the Scottish ski industry.
Ski-Scotland's chairman, Andy Meldrum, responded to that element of the report at the time, saying Scottish winters were "complicated" and Scotland's outdoor ski industry had come to expect that some winters would be "great" and others "terrible".
He said the latest Scottish snowsports season had benefited from frequent heavy snowfalls.