Mars and the man who wanted to buy an island in St Kilda
By Steven McKenzie
BBC Scotland Highlands and Islands reporter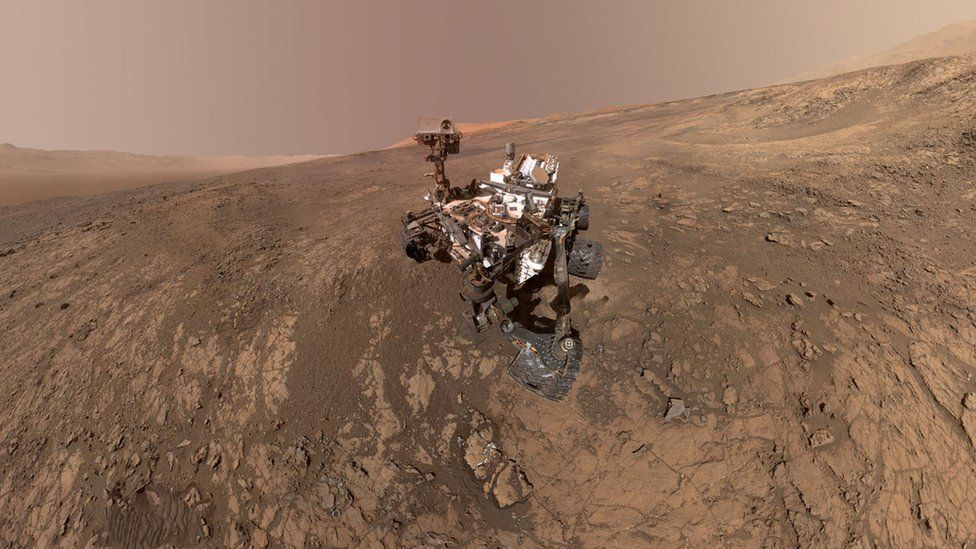 One of the Mars "targets" being explored by Nasa's rover Curiosity has been named St Kilda because of a very personal connection to a scientist working on the mission.
Curiosity is roaming what the mission scientists call the Torridon quadrangle.
Here there are "targets" - geological features, rocks and pebbles of shapes and colours that interest the experts - named, like the quadrangle itself, after locations in Scotland.
In recent days, Curiosity has examined an area dubbed St Kilda, after the remote Scottish archipelago.
Prof Linda Kah, of the University of Tennessee and a scientist involved in the Mars mission, suggested the name.
She has a family connection to the the group of small islands which lies about 40 miles (64km) west of North Uist, the nearest inhabited place to the archipelago.
The last islanders left St Kilda's main island of Hirta in 1930 after life there became unsustainable.
Shortly after the island was evacuated, Prof Kah's great grandfather suggested that his family move to the archipelago.
She says: "George Hastie, a greengrocer from Greenock, was left with five teenagers Andrew, Jessie, Mary Ann, who was also known as Mollie, Ann and George when his wife, Ann, died in 1931.
"George proposed buying one of the islands, confident that he and the five kids could manage to survive there.
"The kids thought he was out of his mind and refused to go.
"The move to a big cold rock in the sea never happened, and the land was left to the birds."
The home where George Hastie lived out the rest of the days in Greenock's Brisbane Street could still be identified by Prof Kah's mother, also called Ann, on her last visit to Scotland in 1995.
The scientist said: "George was the only one in the street that sawed off the iron railings in front of his house to give them to the scrap drive during World War Two. The little stubs left behind were still visible."
Prof Kah says the family legend of the planned move to St Kilda was handed down through her family.
She says: "I vaguely remember my Grandma Mollie Bisset, the middle of George's kids, telling me this story in the late 1980s.
"I was finishing high school at the time, and we were going through photographs after my grandfather, Ian Bisset, who was originally from Bathgate, had died.
"The photographs were a great way to learn family lore.
"It was my Grandpa Ian who first came to the US.
"He had received a graduate scholarship to the Theological Seminary at Drew University. It must have been about 1947 when he came over.
"Grandma Mollie, my mom, who was then about four years old and my Aunt Margaret followed shortly afterward.
"They ultimately settled in Ohio, where my grandmother was a schoolteacher and my grandfather presided over United Methodist churches in Yellow Springs, Cedarville, and Springfield, Ohio.
"My earliest memories are the parsonage and church in Cedarville, Ohio, where my brother and I had our own share of adventures, including breaking a stained glass window the day before Easter services."
Prof Kah's mother Ann, 74, a retired polymer chemist, is now a full-time artist whose work includes paintings of St Kilda.
"Mom 'travels' the world via Google Earth and spends a lot of time exploring the coasts of Scotland," says Prof Kah.
"She sends me images and tells me stories of places she remembers."
Prof Kah adds: "I am definitely at fault for St Kilda on Mars.
"I was working surface operations for Curiosity's Mast Cameras and the team was planning observations on a vein target.
"Veins are mineral-filled fractures that cut through the bedrock and provide information on late-stage fluid flow through rocks.
"One of my PhD students here at the University of Tennessee, Rachel Kronyak, is working to understand the timing and process of fracture and mineral fill of veins, and she had picked the target for some potentially interesting textural features.
"I asked whether St Kilda was on the list of potential target names, and was asked why so I gave the operations team a snapshot of my story."
The scientist said there are other targets on Mars that entertain members of her family.
She says: "The team commonly lets members choose names that are special to them for a target in which they have a particular interest.
"It allows us all to share something special with our families.
"For instance, my son, Douglas, loves that he shares a name with a little pebble on Mars called 'Douglas'."
Related Internet Links
The BBC is not responsible for the content of external sites.