Body found but two still missing in mountain searches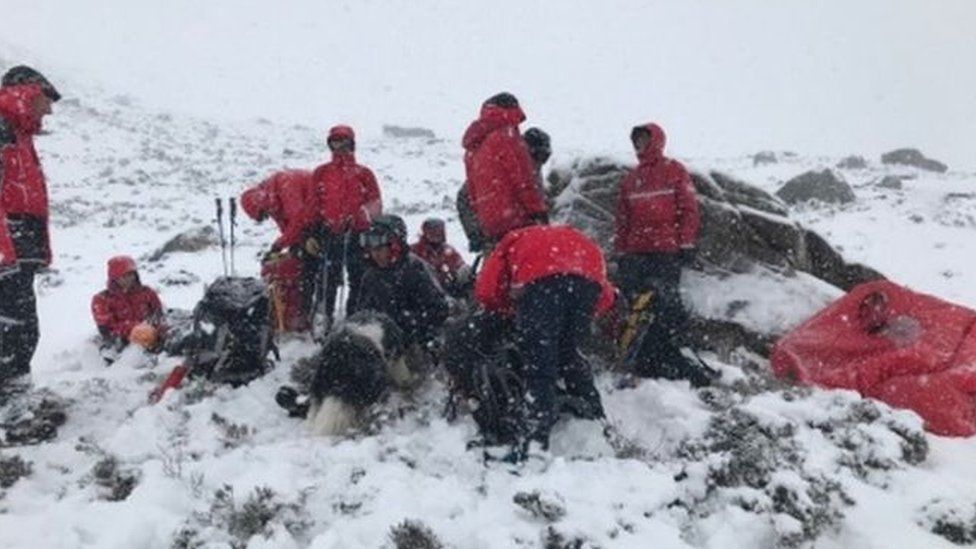 Mountain rescue teams in Glen Spean have found the body of a man who has been missing since 11 February.
Jim Stalker was located near Beinn a Chaorainn by members of Lochaber, Tayside and RAF mountain rescue teams, who were assisted by a coastguard search and rescue helicopter.
The search is continuing for two other men missing in the Scottish hills.
Stormy weather and high avalanche risk in difficult terrain have hampered previous efforts to find them.
Marcin Bialas, 36, has been missing since 21 January after falling through a cornice near the summit of Ben Nevis.
Neil Gibson was reported missing in the Achnashellach area on 8 February and Jim Stalker on Beinn a Chaorainn, close to Creag Meagaidh, since 11 February.
Police Scotland said the efforts to find the men were continuing.
Many mountain rescue teams have been involved in the searches, including Lochaber, Torridon and Dundonnell.
Search dogs and handlers from Sarda Scotland and coastguard helicopter crews have also assisted in the searches.
The body of 63-year-old Mr Gibson's brother, Alan, who was walking with him, was found in Beinn Liath Mhor area on 10 February.
Police said the remains of a dog, a black Pointer named Archie, the men had taken with them were found in a search made on Thursday this week.
Mr Bialas fell close to Observatory Gully and Gardyloo Gully.
Two other members of the man's party were rescued on the day of the climbing accident.
Lochaber Mountain Rescue Team has made several attempts to search for Mr Bialas in an area of deep snow and high avalanche risk.
Scotland's "full on" mountain winter
Last winter was a quiet one, both in terms of wild wintry weather and mountain rescues.
The weather was mild and there were few days of snow. The Scottish Avalanche Information Service (SAIS) recorded 90 avalanches last season, its lowest figure in almost 10 years.
Meanwhile, Lochaber Mountain Rescue Team described 2017 its quietest year for call-outs in a decade.
But this winter has been very different.
SAIS has recorded more than 140 avalanches this season, which has still to run until about mid April.
The figure is also still far behind the 350 avalanches recorded in the service's 2013-14 season.
There have been frequent heavy snowfalls while strong winds have created large, dangerous cornices, ledges of snow that overhang high mountain cliffs.
Mountain rescue teams including Cairngorm and Lochaber have frequently told of encountering "full on" winter conditions during long rescue efforts.
And the wintry conditions are showing little sign of letting up. More snow has been forecast for Sunday, with plunging temperatures and snow expected.
Of course, hundreds of hillwalkers, climbers and snowsports enthusiasts have been able to enjoy Scotland's snow-covered hills and mountains without incident.
The message from mountain rescue teams is that people should to make repeated checks of weather and avalanche forecasts, and use these to guide their choice of walking or climbing route, and to always go out properly equipped.
Fort William-based Insp Nick Hough, of Police Scotland, said: "Our thoughts remain very much with the families and friends of all (the men) and we would like to reassure them that all of the different agencies are committed to continuing with searches, where it is safe to do so.
"Large accumulations of snow remain and there is currently a high risk of avalanche in the areas.
"I wish to express my thanks to all the volunteers and partner search agencies that have already made considerable efforts to search for the missing walkers.
"Their continued commitment is appreciated by Police Scotland and the friends and families of the missing persons."
John Stevenson, leader of Lochaber MRT, said: "We are still experiencing full winter conditions on Ben Nevis and the wider Lochaber area and they are challenging.
"We urge any visiting climbers and walkers to the area to be fully prepared prior to venturing out.
"Always check weather forecasts, avalanche reports and plan your routes; have alternative routes if weather conditions are not suitable when you arrive.
"Walkers should have a full complement of winter equipment, clothing, navigation and safety aids before attempting any walk or climb."