Great tit with long curving beak spotted in Nairn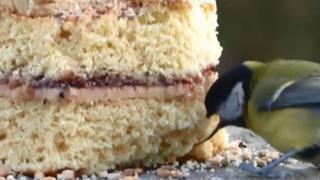 A great tit with an unusually shaped beak has become regular visitor to a bird table in the Highlands.
The bottom part of the bird's beak is long and curves upwards, while it appears to have a shorter than normal top part to its beak.
It has been visiting a bird table filled with food by Nairn wildlife enthusiast Lisa Wood.
She said the great tit appear to coping well, and had been able to eat a slice of cake which had been left out for it.
Lisa has tweeted a video of the bird to Twitter in the hope of finding out more from ornithologists about what may have caused the beak to form the way it has.