Missing Liam Colgan 'may have left Hamburg'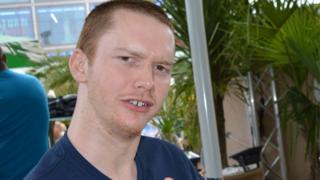 An Inverness man who went missing in Hamburg last month may have left the German city, his brother has said.
Liam Colgan has not been seen since he left his brother's stag party in the early hours of Saturday 10 February and walked off alone into the city.
His brother Eamonn was due to get married on Friday, but the ceremony is on hold while the search continues.
Eamonn said 29-year-old Liam may be confused about who he is after suffering a head injury.
He said it was possible that Liam could have travelled beyond Hamburg.
Speaking to BBC Radio Scotland's John Beattie Programme, Eamonn said Liam's family and friends were trying to get their appeal for information spread more widely in Germany.
He said police in Hamburg were waiting to react on what they believed to be "credible information" on Liam's whereabouts, and that police may even be "fearing the worst" that he has not survived his ordeal.
But Eamonn said: "We obviously aren't from that standpoint. We still have a very strong belief that he is out there.
"For some reason he has not been able to be in touch with us.
"There are so many theories that are going through your head. Our latest is that Liam sustained some sort of head injury that has confused him as to who he is and where he is.
"He might not even be aware that he is actually lost."
He added: "There is a strong possibility he is no longer in Hamburg and that is why we are trying to raise awareness as far and wide as we can."
Eamonn said German police were aware of the family's disappointment at the initial response to Liam's disappearance.
He said it was on the fifth occasion of reporting the matter to police that they began dealing with the case as a missing person.
Eamonn said that, while recognising the police in Hamburg encountered regular instances of people going missing temporarily after nights out in the city, he had felt "mocked" by the officers he dealt with initially.
He said the matter was treated as one where Liam had "gone off partying for a couple of days", despite the family's protestations it was not in Liam's nature to do so.
Liam's family had also raised concerns that he was missing in freezing conditions.