Liam Colgan's family say the search for him 'won't stop'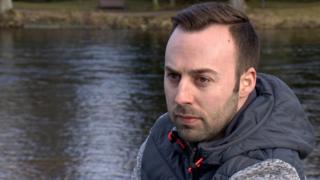 The family of missing Inverness man Liam Colgan say the search will not stop until he is found.
The 29-year-old vanished during his brother's stag party in Germany in the early hours of Saturday 10 February when he walked off alone into the city.
The wedding that was supposed to follow the Hamburg weekend should have happened last week.
Now, instead of being on his honeymoon, Eamonn Colgan is desperately searching for new leads.
Eamonn told BBC Scotland the family refuses to believe Liam is no longer alive.
He said: "There is no doubt in my mind he is still alive.
"We need to believe that.
"If I stop believing that then our chances of finding him will diminish.
"I do constantly remain hopeful - I'm not going to stop being optimistic about this.
"I owe it to Liam to continue being hopeful and confident that we'll find him.
Among his family's theories on why he has not been found so far is that he suffered a head injury and is confused about who he is, and has managed to travel beyond Hamburg.
Eamonn has been back and forward to Hamburg for four weeks and admits the time is coming when this will not be possible.
He said: "This has almost become normal now.
"It's very bizarre. I've been home a week or so now and trying to get into a routine but it is difficult because Liam is always there in the background and I am trying to do as much as I possibly can to keep his name out there.
"It is not feasible for me to remain travelling to Hamburg all the time.
"I have to return to work and be there for the rest of my family as well.
"Other family members will start trying to share the shifts over to Hamburg and we have more than 300 volunteers over there.
"I hope this will keep going until we have brought Liam home.
The Colgan family have been stunned at the amount of help offered.
This week, volunteers in Hamburg have organised 300,000 leaflets to be distributed through the postal service.
"It's extremely humbling," said Eamonn: "I can't even explain it, it's just an incredible gesture for people to do that.
"None of them know Liam, none of them know me, and yet they have given up all their time and efforts, going out in freezing temperatures, coming up with ideas like this. I don't think I will ever be able to display the gratitude I feel towards them."
Eamonn will travel to Hamburg next week to meet with police to make sure the investigation is not winding down.
He remains hopeful and said: "We get updates on Facebook every day saying they [Facebook users] only just heard of it.
"We are constantly reaching more people and the more we can reach the more chance we have of getting that one bit of information that we need.
"A lot of sightings are reported after, so the more we can spread the news the more likely we will be to get that sighting where someone is saying 'I'm with Liam right now'."
More than £13,000 has been raised via a crowdfunding page to help pay for the family's visits to Hamburg as they continue their search.
From Friday, the "One for Liam" weekend will take place across several bars in Inverness, Nairn, Invergordon and Forres.
Supporters will be encouraged to buy one drink for themselves and one for Liam.
The money for the drink will go towards helping support Liam's family and any funds left over will be donated to a missing person's charity.